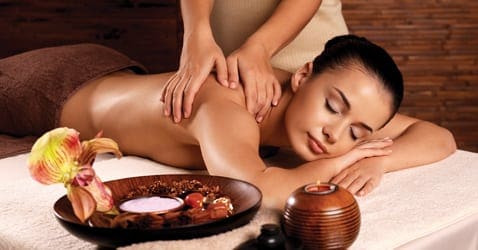 Winter is finally over and Spring is here! At Revive Skin Emporium we understand all too well how the cold weather can affect our skin. The dry air caused by cold temperatures and low humidity levels strips the skin of moisture. This effect can be exacerbated by harsh winter winds and the dry warmth from indoor heating, leading to cracked and bleeding skin. These cold, dry months can also bring on skin conditions like eczema or psoriasis or worsen already present symptoms. 
Here at Revive Skin Emporium, we have several spring specials to rejuvenate and revitalise your skin after a long and wet winter. Here are just a few of them:
This spa package begins with a luxurious body scrub. This body scrub functions to exfoliate the skin leaving you brightened and refreshed. The body scrub contains mango and guava extracts so it gently exfoliates as it moisturises. It does this without leaving an oily residue that these types of products often do. This residue can clog the skin and cause breakouts. 
After the body scrub comes an illuminating Hydropeptide Facial. This part of the package includes a vitamin c peel and radiance mask. The facial will leave your skin feeling plump, smooth and radiant, as well as looking visibly lifted, with improvements continuing for several days afterwards.
To finish there will be a Pressure Point Scalp Massage to leave you feeling relaxed. This will also help relieve stress and reduce tension. In addition to migraine and headache pain relief, it may lower blood pressure, promote circulation and hair growth. For this Spring Special allow at least 1.5 hours. 
Our Spring Glow Facial is the perfect treatment to resurface and rejuvenate your skin after a harsh winter. This package also involves lots of anti-ageing treatments to combat the typical signs of ageing that get amplified by the cold weather. 
The package starts with an apple stem peel which has anti-aging benefits and assists in the building of new tissue for clear, youthful skin and a vibrant glow. This is followed up with a nourishing cranberry mask. This mask includes botanical growth-factor activators as well as peptides. Both of these things working together have fantastic anti-ageing benefits, replenishing dehydrated skin while simultaneously firming and plumping.
Our faces aren't the only thing constantly exposed to the cold. After a long, cold winter our hands need some extra love as well. The Spring Glow Facial is finished off with a complimentary illumination hand treatment. This includes vitamin c exfoliants and a firming massage. Your hands will thank you! Leave feeling firmed and brightened with this targeted, luxurious hand treatment. For this Spring Special allow at least an hour. 
Mentioned above are just a couple of our fabulous spring specials. With our Refresh and Renew package you can get a lash and brow tint along with a wax to keep you feeling fresh. You'll also get a deluxe and refreshing facial along with a collagen eye treatment that firms and brightens around the eyes. 
If the idea of utilising one of these spa packages with a friend or partner appeals to you we also offer the Palm Springs Day Spa Journey For Two. This is an amazing full body treatment that will make you and your partner forget winter even happened. Start with an Aromatic Steam Room Session that revives and detoxifies. 
Follow that up with some Coconut Black exfoliation and a relaxing back, neck and shoulder massage with essential oils. After that, you can both rejuvenate your skin with a decadent 1-hour facial combined with a relaxing massage. You can even drink champagne and eat chocolate served from our relaxation lounge!
Spring is starting and it's the perfect time to rejuvenate and revitalise your skin. Don't let the cold control your complexion – Come and visit Revive Skin Emporium today to refresh and nourish while you erase any damage that's occurred from one of Perth's harshest and wettest Winter's!